Dragons roar back to life at 2023 Big Boards!
Geoff Hyde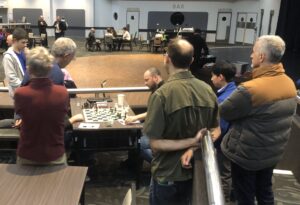 After four losses to Norths over the last two years, St George put on a mighty performance to win the away match, 26.5 to 24.5. Charles did a great job of recruiting 24 past St George players to the cause, to add to the 27 combatants who are current club regulars.  Among the returning crew were WGM Jilin Zhang, IM Igor Bjelobrk and FM Pengyu Chen.  Many thanks to all those who heeded the call! A full list of the results can be viewed here. And thanks to Charles' efforts, you can  play through three of the top games from the match.

Although we had more titled players than Norths on the night, we were still at a ratings disadvantage: Norths averaged 1617 to our 1555. But undaunted by the numbers, a dozen Dragons defeated their higher-rated opponents, helping to make the night a cause for celebration.
An annual event since 1987, the night saw St George take on one of the other big clubs of Sydney, Norths, in the first of two matches, this one being our away event. After the second leg, a home match in November, the overall winner will have the honour of holding on to the John Kellner/Terrey Shaw Trophy (see photo) for the year. A record of results throughout the tournament's life can be viewed here.