The Friendly Club!
The St George Chess Club prides itself on a diverse membership with a range of chess abilities. We foster a social atmosphere for players of all ages and abilities.
The club runs regular internal club competitions and participates in interclub tournaments. More information about the activities can be found from the calendar.
Club Games: 7:30pm Tuesday nights, Prince Edward Rooms, St George Leagues Club, 124 Princes Highway, Kogarah NSW
News
2023 St George Summer Open: Round 2 Report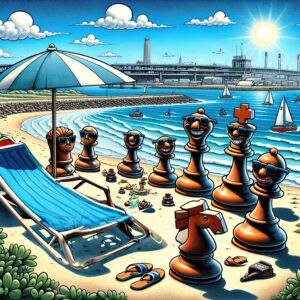 Round 3 Pairings (provisional)
It's still calm waters after two rounds of the bayside tournament, with 10 players on 2 out of 2, and a further 10 on 1.5.  Conditions will no doubt get more turbulent in the two final rounds for 2023, before the two-week holiday break.
The following players had victories against players at least 10 positions above them on the initial ranking list or a draw against a player 20 points above: (the number in parentheses shows the difference): Wins: Ted Power (56; unrated); Dominic Ou (45; unrated); Volkan Soker(42); Peter Swinton (26); Stephen Elliott (17);  Draw: Ludwig Wolf (21).
2023 NSW State Blitz Championships Report
Geoff Hyde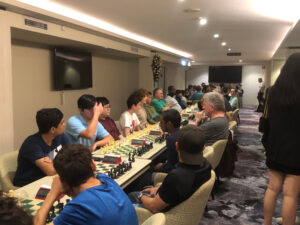 Last Sunday, November 26, Ryde-Eastwood Leagues hosted the 11-round State Blitz Championship (3 mins/2s increment). In the field of 82, St George was well represented with eight players. The arbiting itself was a Dragons affair entirely, with myself acting as deputy to chief arbiter, Charles Zworestine, and Tim Hanrahan kindly helping out with entering of scores.
State champ was clear winner Samuel Asaka (10.5/11), whose near perfect score was spoiled only by a single draw. FM Jason Hu was second on 9, and club regular FM Clive Ng third on 8.5. The full list of final positions can be seen here.
The other St George results were: Daniel Melamed, John-Stuart Plant and Arthur Huynh (all on 7.5); Mario Falchoni, Anthony Karnaout and Rupert Coy (6); and Samuel Slingo with two wins.
Even though the room supplied by the club was rather minimalist, there was a friendly vibe that seemed to leave people very happy with the event. Being blitz, a steady stream of illegal moves kept both the arbiters on their toes, but again, the decisions made were not any source of ill-feeling.
One of the traditions of the State Blitz is that it is immediately followed by the NSWCA AGM. That involved much heated discussion of the association's 2023 policy of not allowing juniors below a rating threshold to take part in some of its Open tournaments. There seemed to be an agreement that the policy needed reviewing, perhaps by making the rating requirement only applicable to juniors under 12. The other matter of interest to St George was the election of Celina Wu and Charles as the two council members without portfolio, and Rupert Coy as the communications officer.
Upcoming Events at St George & elsewhere
Doeberl Cup: Canberra, Easter  2024
The most popular fixture of the Australian chess calendar is coming up – the Doeberl Cup. Last year it had a record attendance of over 400 players. Held every year over Easter in Canberra, it offers five divisions to cater to every skill level. All divisions run under a classical time control, and, for some extra spice, there is also a blitz tournament thrown in on Saturday night. The Doeberl website has all the details.